Veneers – Grand Rapids, MN
The One-Stop-Shop of Cosmetic Treatments
Often referred to as instant orthodontics, porcelain veneers instantly correct crowded, widely spaced, chipped, and stained teeth. They're handcrafted from strong, durable porcelain and placed over the teeth that show when you smile. As one of the most popular cosmetic dentistry procedures available today, porcelain veneers have given millions of Americans the smiles they've always wanted.
Our dentists will discuss your vision of an ideal smile and pinpoint attributes that you would like to improve. Together, you and the dentist will design veneers that solve all of your dental problems. After planning and preparation are complete, we'll bond the veneers to your teeth, and you'll leave our office with a completely transformed smile.
Why Choose Grand Rapids Dental Care for Veneers?
High-Quality, Stain-Resistant Porcelain
Digital Impression System
Fix a Variety of Cosmetic Imperfections
Benefits of Veneers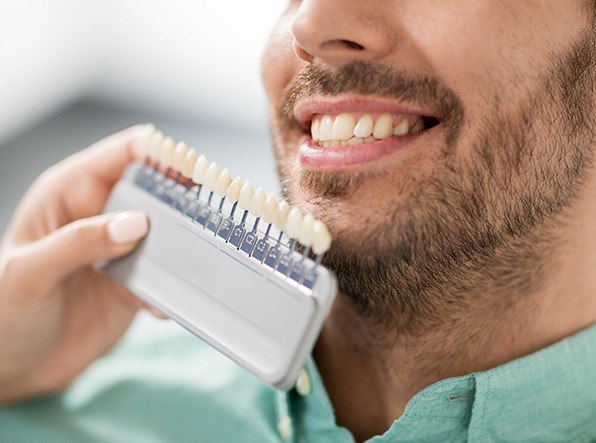 Porcelain veneers pose many benefits over other cosmetic procedures, including:
Beautiful Appearance – the porcelain used to craft veneers reflects light similarly to tooth enamel for a lifelike appearance.
Conservative – minimally invasive, only a small amount of tooth enamel, about the thickness of a fingernail, needs to be removed to place porcelain veneers.
Durable – once bonded to the teeth, porcelain veneers prove extremely strong and durable.
Stain-Resistant – coffee, tea, tobacco, aging—all the normal culprits won't touch your dazzling, white smile with porcelain veneers.
Fast – many patients receive the smile of their dreams in just two office visits.